We have recently come up with a new innovation: Zip – Your personal AI assistant in WordPress. Zip can help you to create and fine-tune your content just the way you like it.
In this article, we'll introduce you to Zip, explaining its key benefits, use cases, and how to use it.
What is Zip?
With Zip, you can generate content for your website within the block editor. Zip is a cloud-based service that uses artificial intelligence to generate text, translate languages, write different kinds of creative content, and answer your questions in an informative way.
With this feature, you have the ability to improve your content creation process and make sure it matches your preferred tone, style, and global audience. Whether you want a professional touch, a hint of humor, or the capability to communicate effectively across different languages, Zip offers a flexible and dynamic way to enhance your content.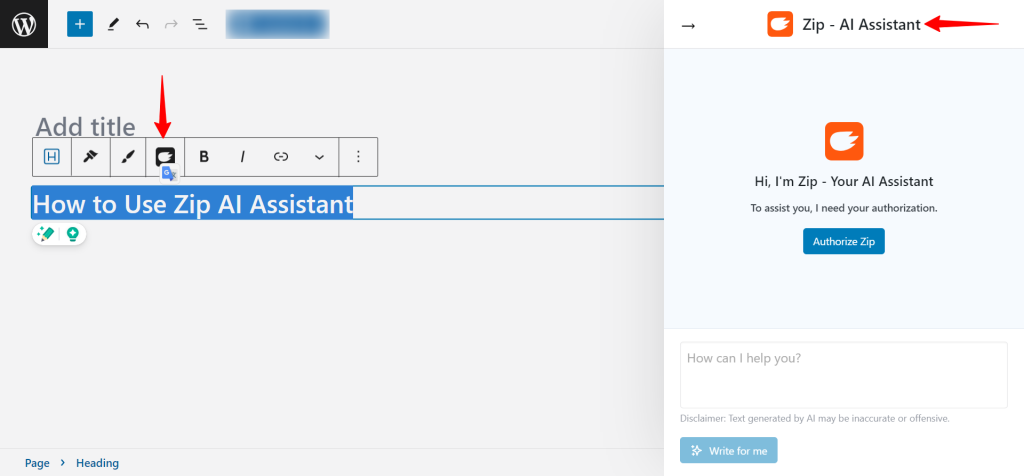 How to Activate and Use Zip?
Now that you understand why you might want to use Zip, let's look at how you can activate it.
Note that for this tutorial, we'll assume you already have the Spectra plugin installed and activated on your website.
Once you have Spectra installed on your site, you can simply follow the steps below.
Navigate to the Zip – AI Assistant tool in the WordPress dashboard by selecting Tools > Zip – AI Assistant.
Proceed to initiate the Zip AI Setup Wizard and click on "Get Started Now"
This action will direct you to the Zip WP login page.
Sign in with your credentials if you already have an account, or alternatively, sign up for a new account.
After logging in, locate and click on the "Authenticate & Continue" button.
Upon successful authentication, you will be redirected to the Zip – AI Assistant dashboard.
Note: You can authorize Zip directly within the WordPress Editor by clicking the "Authorize Zip" button, following the same process outlined in the previous steps.
Once you are done with these steps, go to any page or post to start using Zip.
Let us illustrate this with an example:
Zip will work on almost any block that supports RichText. In this example, let's assume you're on a page and usin the heading block. Simply click on the text you wish to edit, and you'll observe an icon labeled "Zip – AI Assistant."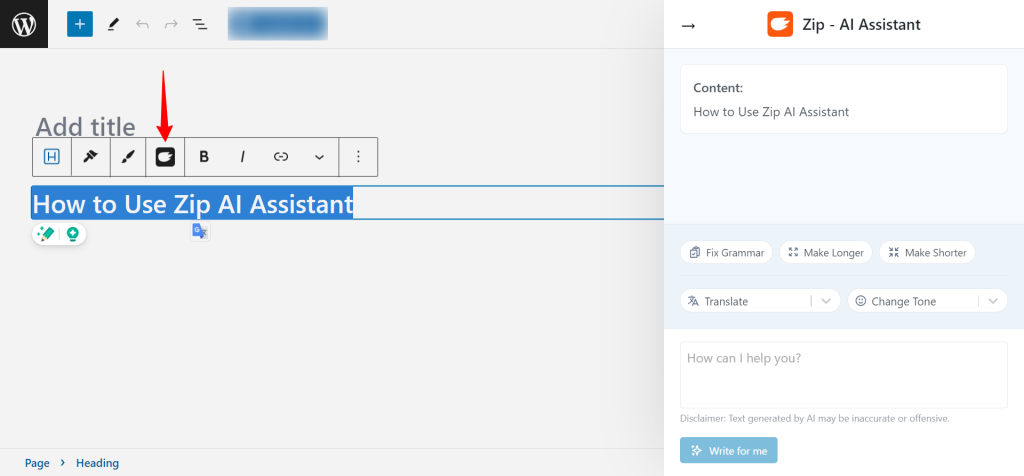 This activates the Zip sidebar, where you can fine-tune your content. For example, you can perform a one-click grammar fix. Additionally, you have the option to adjust the tone of the content, making it sound more energetic or formal.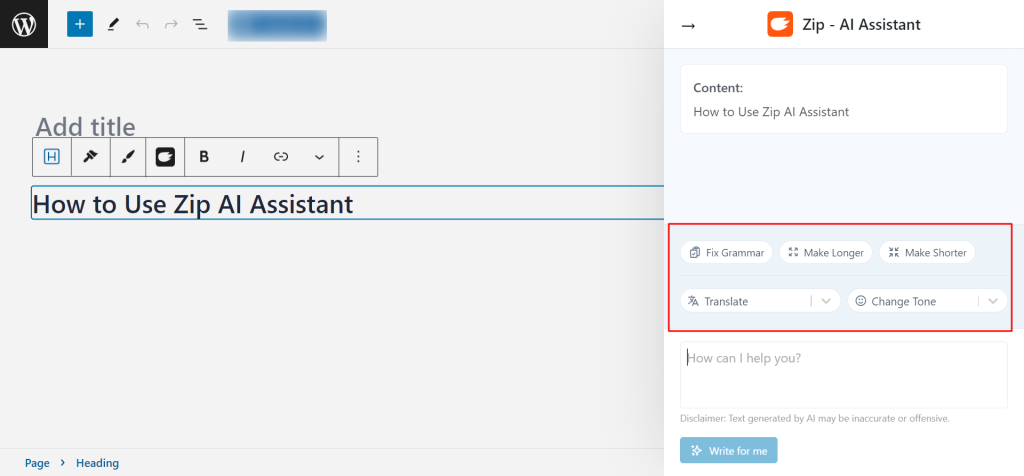 If the preset tones don't match what you're looking for, you can directly type in your desired tone. Zip also provides a range of languages for translation and a set of simple commands.
If none of these options suit your needs, you can type your specific instructions, and click "Write for me", then Zip will make the necessary adjustments.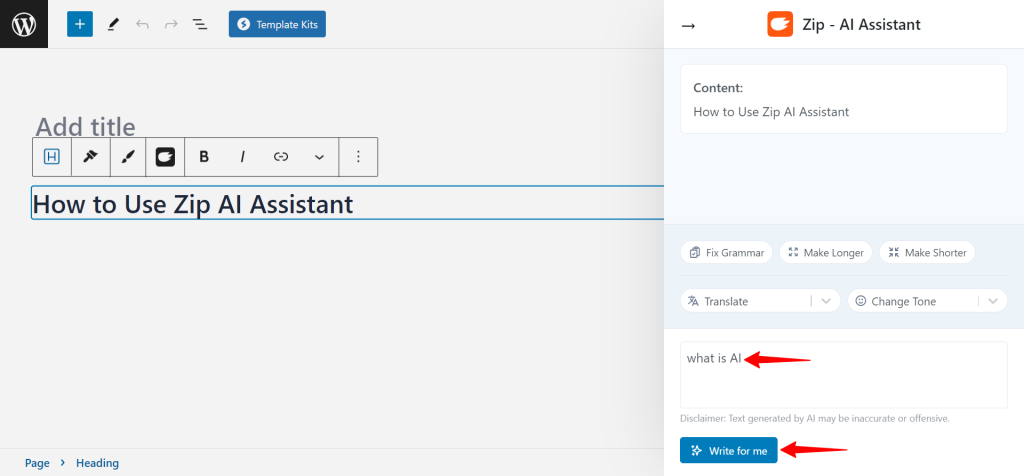 If, for instance, you decide the generated content is still the best but want to make it shorter, you can click on the "Make Shorter" option. This prompts the system to condense the text while retaining its essence.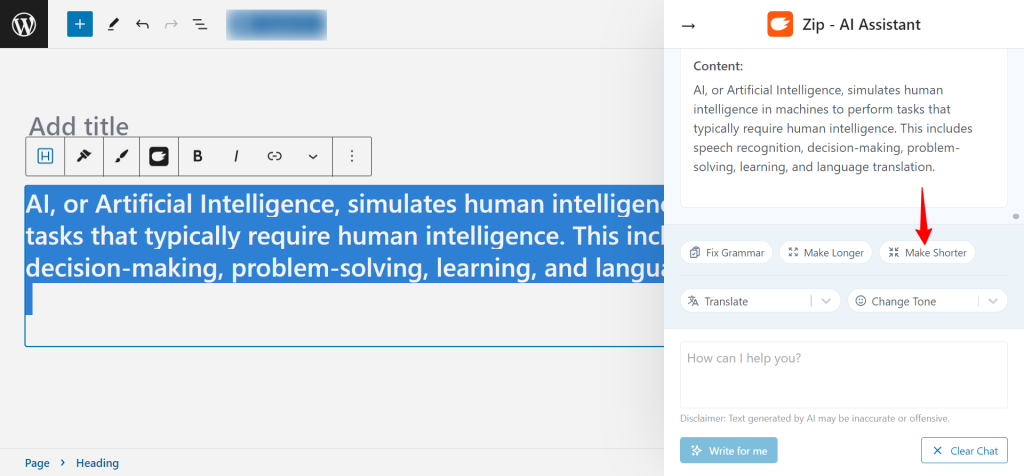 Once you've completed your edits, a simple click on the "Use This" button seamlessly updates the content. This process effectively replaces the old content with the improved version, all achieved in just one click.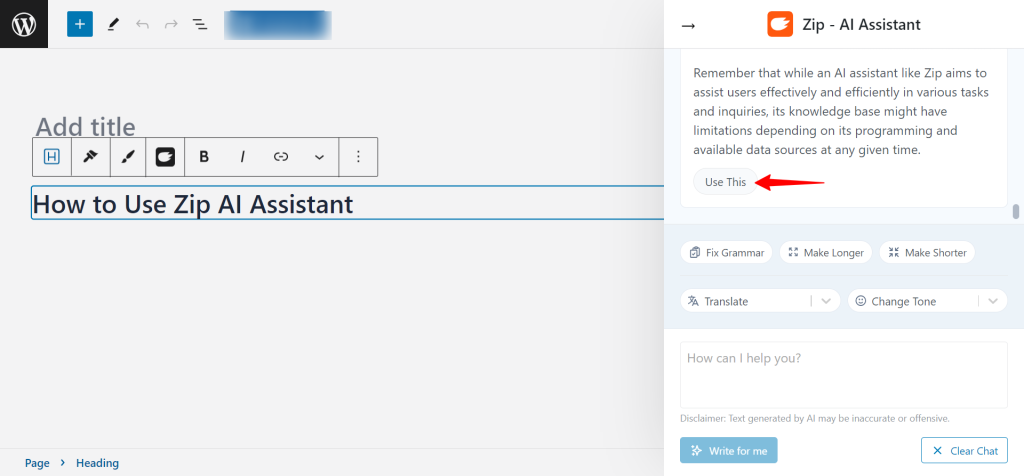 If you want to explore variations, you can regenerate the content and choose the version that fits your preference.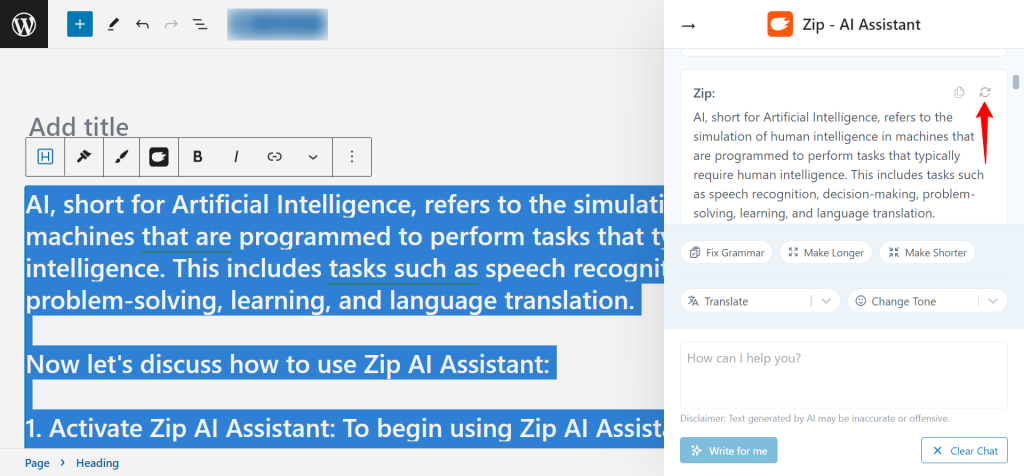 Chats are unique to each page that you're editing, and will persist until the page on that tab is reloaded or has been changed – This means that if you're editing 3 pages on 3 different tabs, each one will have chats that are unique to them as long as they're not refreshed or exited.
Zip also has a Paste from clipboard feature that comes up if there was no content to edit previously.
The "Paste from clipboard" feature allows you to easily copy text from any website and then paste it into the chat. Once pasted, you can rewrite the content as per your preference or make any desired edits. This feature streamlines the process of incorporating external text into the conversation, giving you the flexibility to reshape and customize the information as needed.
We hope this article has been helpful. If you have any questions, please feel free to leave a comment below.