When we first elevated Spectra from a WordPress block plugin to a full website builder, we committed to a program of steady improvements and feature upgrades.
Today we are announcing one more update to the list, Spectra 2.8.
Released on October 19 2023, Spectra 2.8 adds a couple of interesting new page building features to help you build even better WordPress websites.
The two features in Spectra 2.8 add two amazing new features to the website builder, sticky containers and new site visibility options!
Sticky Containers
The first improvement in Spectra 2.8 is sticky containers.
Sticky containers work in much the same way as sticky menus. They can be configured to remain in place on the page as a reader scrolls.
They could be used in a number of ways, for example to:
Hold a table of contents
Promote other posts
Contain a chat prompt
Promote a special offer
Here's a video explainer of what sticky containers are and how they work:
Using sticky containers is easy!
Open a page or post in edit mode
Select a container or add a new one
Select the Advanced tab in the menu on the right

.


Toggle Sticky Container to on
Set the container to stick to the bottom or top of the page
You can add whatever blocks to the container you like to achieve whatever goal you like.
It's one more interactive element you can use to increase engagement on a page without impacting performance!
Site Visibility
Site visibility has also had an upgrade in Spectra 2.8.
Two new features help protect your SEO while you're building your website and tell search engines and visitors to come back later if you're working on the site.
There has always been an option to enable coming soon mode for WordPress websites still under construction.
Spectra 2.8 adds an SEO twist.
Coming soon mode allows you to select a page to show and will now automatically tell search engines the query was successful and crawlers can access the page and index it.
For all you SEOs, that means Spectra coming soon pages will automatically return an HTTP 200 status code.
Most standard coming soon most plugins don't return any codes, so search engines see the query as a failure.
Adding HTTP 200 automatically means crawlers can still visit your site and your SEO journey can begin.
Toggle coming soon mode on or off via Spectra > Settings > Site Visibility.
Once you toggle it on, select a page to redirect visitors to from the menu that appears.
Maintenance Mode
Spectra 2.8 also introduces a new maintenance mode.
Maintenance mode is ideal when you're working on your site or performing upgrades that may impact the user experience.
It's a manual version of the same maintenance mode WordPress uses when upgrading itself or core plugins.
Rather than risk a visitor experiencing errors or poor performance, you can redirect them to a prepared page telling them you're working on the site and to come back soon.
This has obvious usability benefits and is something we recommend for every website.
It also benefits you, as visitors are being taken care of and there's no need to rush whatever it is you're doing.
Toggle on maintenance mode and you can choose a page to redirect users to while you perform your work.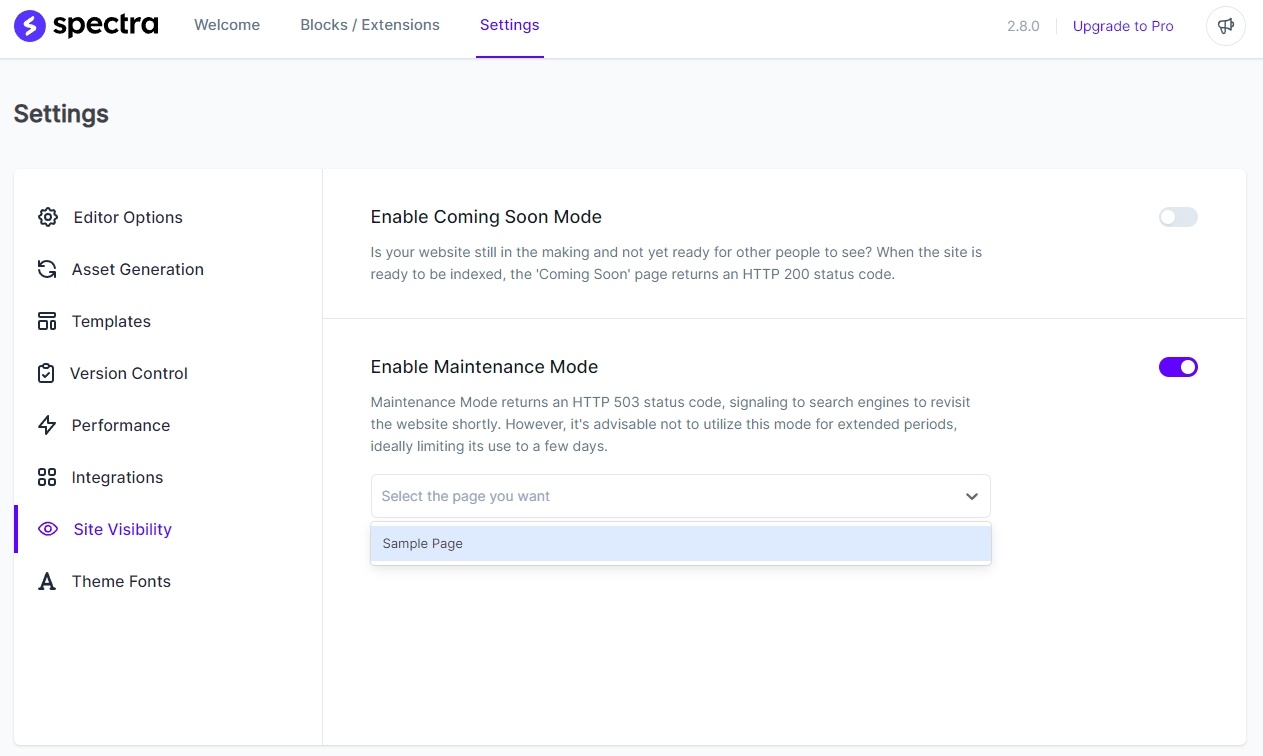 Like coming soon mode, maintenance mode also helps SEO by telling search engines to try again later if they try to crawl your website.
It will return an HTTP 503 temporarily unavailable status code when crawled by a search engine. This tells it to try again later rather than not at all.
Spectra 2.8
A lot of work goes into every update and Spectra 2.8 is no different.
Our development team has been working hard to deliver a cool new building feature and a useful quality of life feature.
Sticky containers have huge potential to help draw attention to page elements, special offers and anything you like.

Improvements to site visibility makes life easier for you when performing maintenance. They give search engines what they look for and clear guidance to visitors.

Along with the usual code improvements and refinements under the hood

to ensure Spectra remains fast, stable and easy to use, we think this is a solid update to our favorite page builder!
What do you think? Have you tried Spectra 2.8 yet? Experimented with sticky containers? Have any feature requests for future releases?
Disclosure: This blog may contain affiliate links. If you make a purchase through one of these links, we may receive a small commission. Read disclosure. Rest assured that we only recommend products that we have personally used and believe will add value to our readers. Thanks for your support!