Spectra provides a range of creative blocks to design beautiful websites. In addition to this, Spectra introduces ready-to-use single-page templates and block patterns.
With Spectra version 1.21.0 and above, you get a library of all templates right inside the block editor. You can choose and import the template you like, tweak it as required, add content and go live in less time.
In the block editor, you will observe a button – Spectra Templates. Clicking on this will open a templates and block patterns library.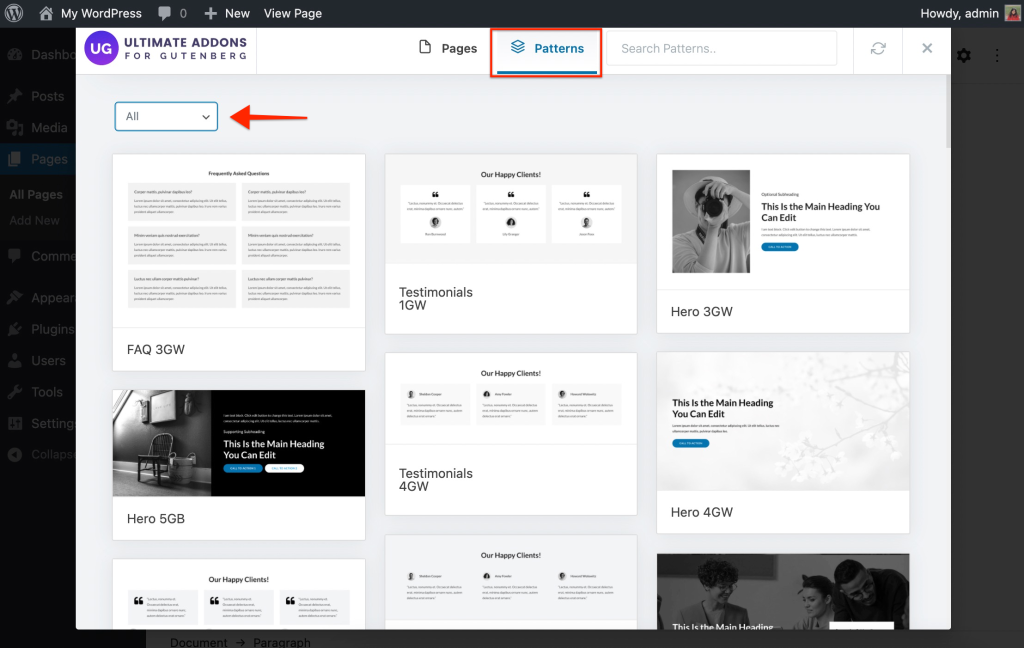 This article will explain all details about templates and import process. Let\'s dig in!
Single Page Templates
In template library, all single page designs are listed under Pages tab.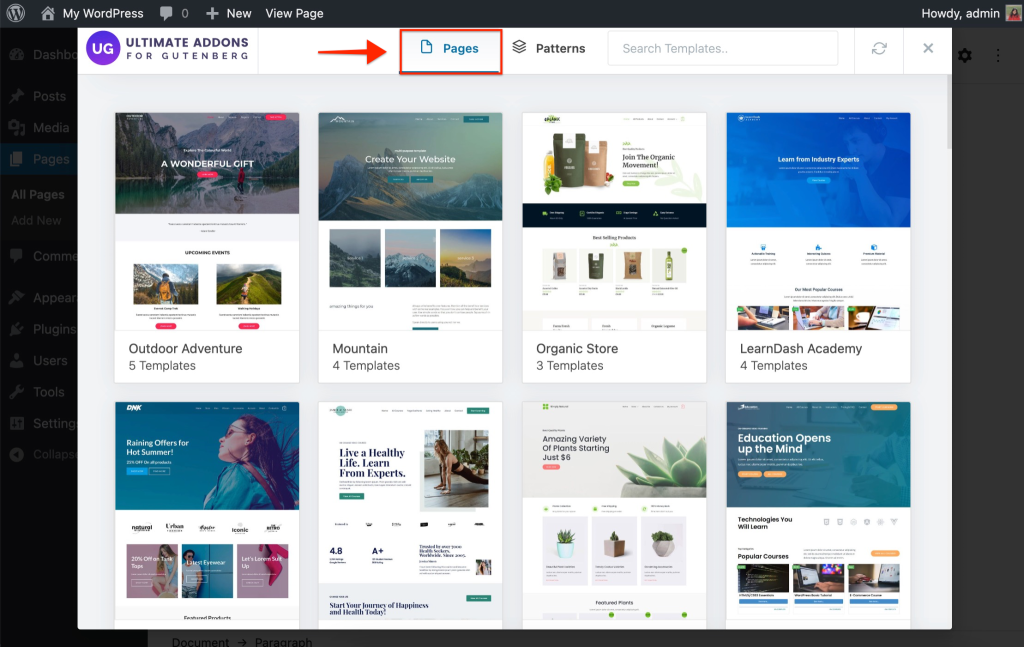 You will observe a group of page templates for different topics like Outdoor Adventure, Mountains, Organic Store, and so on.
Clicking on any one group will display all single-page templates related to the topic. You will observe pages with the same design theme in the respective website topic. And when these all single pages in a group are put together can form an entire webiste.
For example – If you open Outdoor Adventure, you will observe 5 single-page templates – Home, About, Services, Projects, Contact. These all single-page templates have the same design theme.
On your website, if you open 5 blank pages and import these 5 single-page templates, you will have an entire website ready with all possibly required pages.
You can add your content, replace images and go live with beautiful, profetionally website in minimum time.
Patterns
Patterns dedicated sections designed for different parts of web pages. You can add patterns to your own design or use different ones to create a unique page.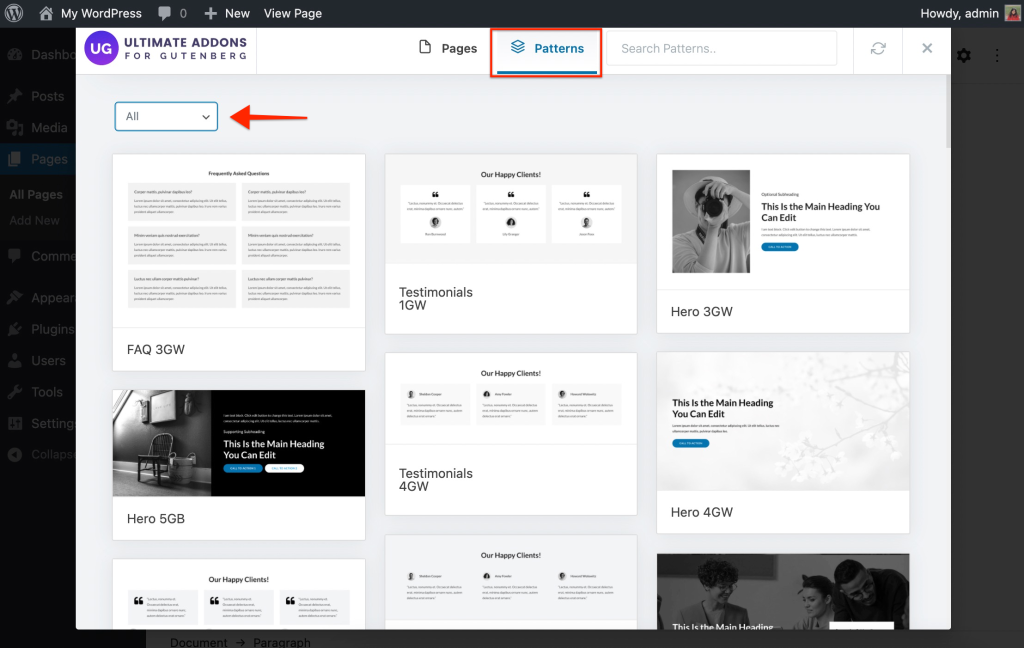 In library, You will find patterns designed for following sections –
About
Call To Action
Clients
Contact
FAQ
Features
Heading
Hero sections
Portfolio
Statistics
Services
Team
Testimonial
You will see more patterns gradually with new updates.
Patterns can be imported in between pages. They serve the need of any section on the page. You can quickly import the required pattern and go ahead with your page design.
For example – Let\'s say you have a sales page where you wish to add a FAQ section for your product. FAQs are a great way to address user\'s last-minute queries and encourage them to complete the purchase. You can import FAQ section from Patterns and add your content. This way you can quickly create FAQ section saving your time and efforts.
Similarly you can use different patterns anywhere on the page.
How to import?
You can easily import single pages and patterns with few clicks.
Step 1 – Open and edit the page/post.
Step 2 – You will observe a button on the top of the block editor that says – Spectra Templates. Click on this button.
Step 3 – A popup window will appear with all single page and pattern choice. Choose your favourite page or pattern. You can preview selected page/pattern before importing it.
Step 4 – Once you preview the design, click to import it. The import process will start automatically.
Done! You can update the content and images as per requirement.
Here is a quick video that explains import process –
After importing page/pattern here are few things to note –
Once you import a page or pattern you might see some different colors and typography than previewed content. This is because your customizer settings will automatically be inherited to page/pattern design.
Example – If a page you are importing has a button with black color while you have set the yellow color for buttons in the customizer. Then after importing a page, a customizer setting i.e. yellow button color will be applied to the button instead of black.
Similarly, typography will be inherited from the customizer. All headings and content will have typography set from the customizer.
In case, the page you importing has a form, the required plugin will be automatically installed and activated.