Are you tired of the same old routine when it comes to building websites? Say goodbye to time-consuming processes and hello to the ultimate journey in website creation with Spectra.
With Spectra, you can create stunning, fast-loading websites effortlessly using the WordPress Block Editor (Gutenberg) with no coding required.
This document lets you know the complete details regarding how to use spectra in building your website.
Why Choose Spectra for WordPress
Spectra introduces a whole new world of possibilities with its advanced and powerful blocks. These blocks enhance the Gutenberg editor, making it easier to create beautiful and fast loading websites quickly.
Let us imagine having a toolbox full of your favorite blocks from Spectra, all set to speed up your website-building process. In addition, Spectra makes it super easy with settings and customizations for simple and stylish design.
What are the Powerful Features of Spectra
Spectra offers a wide range of below-mentioned tools and options to improve your design and functionality:
Layouts: You can easily manipulate sections, rows, columns, and blocks with intuitive layout navigation, streamlining your page design process.
Starter Templates: You can access a variety of pre-designed websites, pages, and blocks that can be imported and adjusted to your preferences.
Block Patterns: You can import and customize pre-designed block patterns for different sections on your website.
Spectra Copy Paste: You can effortlessly replicate the design of one block, including fonts, colors, spacings, borders, shadows, and animations, onto another block using Spectra Copy Paste.
Container: You can create impressive layouts using the Container block, which utilizes flexbox technology.
Global Styling Support: Spectra lets you set the default content width for your website with a single click. You can also inherit button styles from your theme, maintain consistent container padding across your site.
Popup Builder: You can capture your audience's attention or convey important messages by designing eye-catching popups using our user-friendly popup builder.
Coming Soon Mode: If your website is still in progress or not ready for public viewing, enable the coming soon mode to display only the selected page to non-logged-in users.
Animations: You can enhance your website with interactivity using Spectra's array of animations, including fade, slide, zoom, flip, and more. Free users have access to a selection of animations that can be effortlessly applied to any block.
Load Google Fonts Locally: Improve your website's speed and ensure GDPR compliance by downloading and storing Google fonts on your server.
How to Install Spectra Plugin
You can simply follow the below steps to install the Spectra plugin on your WordPress website:
Log in to your WordPress Dashboard.
Navigate to Plugins > Add New.
Search for "Spectra."
Install and activate the plugin.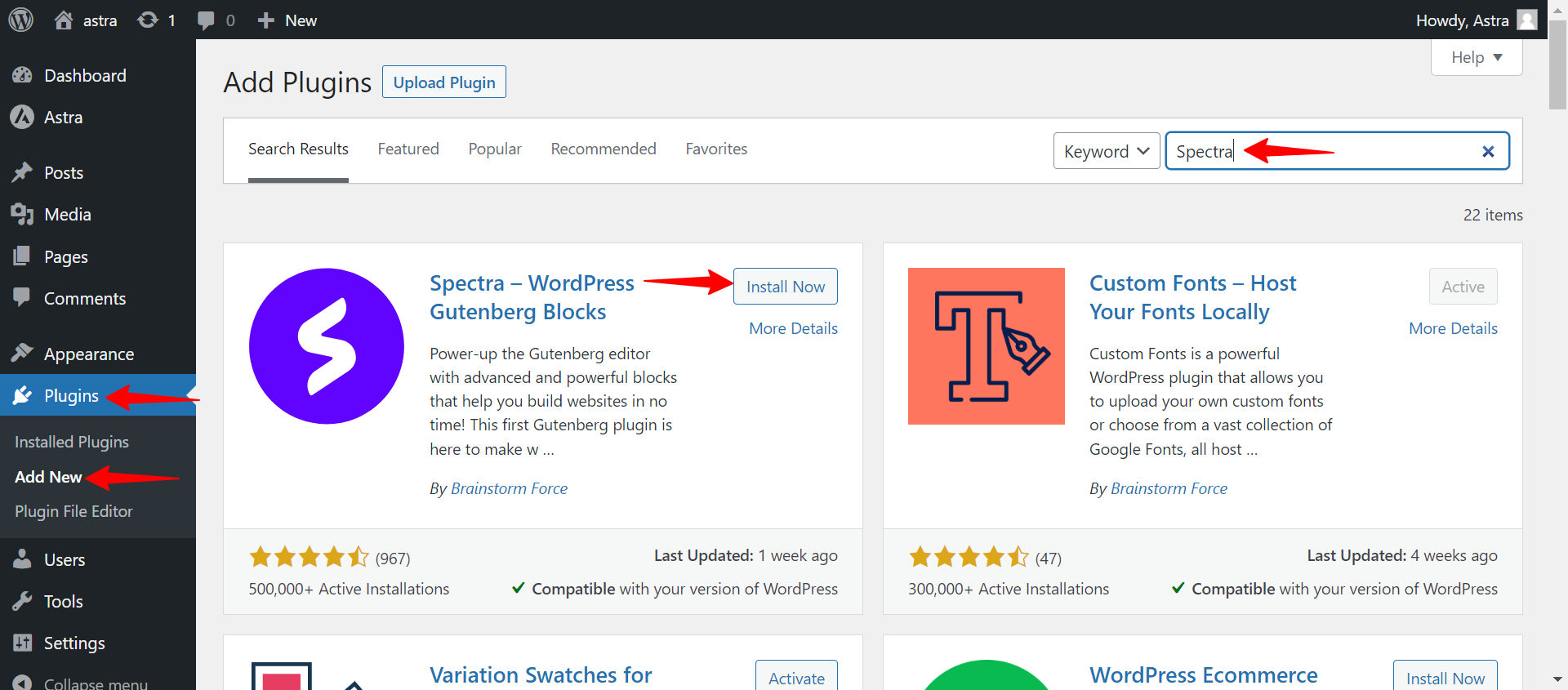 (Note: If you prefer manual installation, you can download the plugin's zip file from the WordPress Repository.)
How to Use Spectra Blocks?
Now that you have Spectra at your fingertips, let's get into how you can use these Spectra blocks and build your dream website.
Let us begin by creating a new post or page. Click the "+" icon to access Spectra's array of blocks.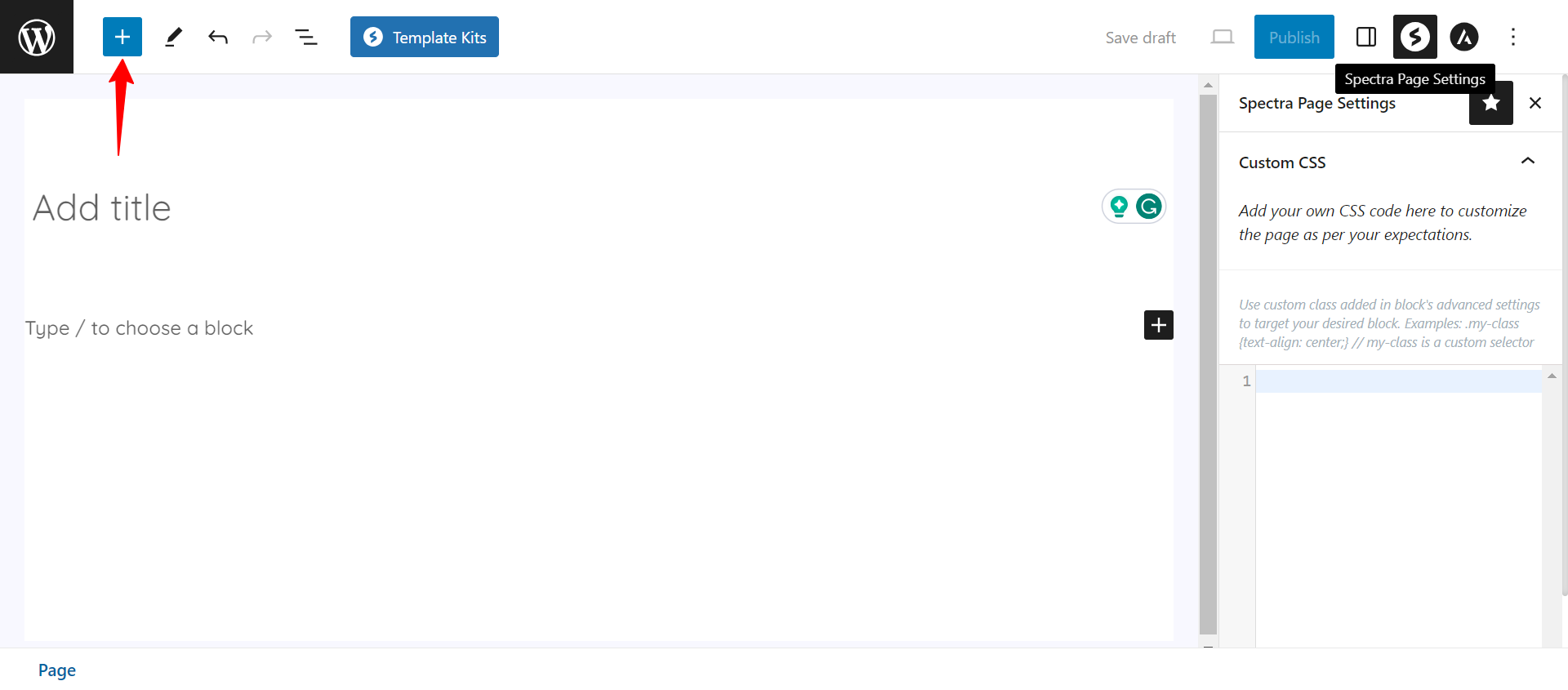 After you have chosen and added a block to your workspace, you'll discover endless options.
Spectra provides a live preview of your design on the left side, along with a user-friendly sidebar on the right.
How to Customize the Spectra Blocks?
Customizing your blocks is as easy as selecting them and changing their settings in the sidebar. Spectra grants you the power to fine-tune every aspect of your design, ensuring that your website reflects your unique vision and style.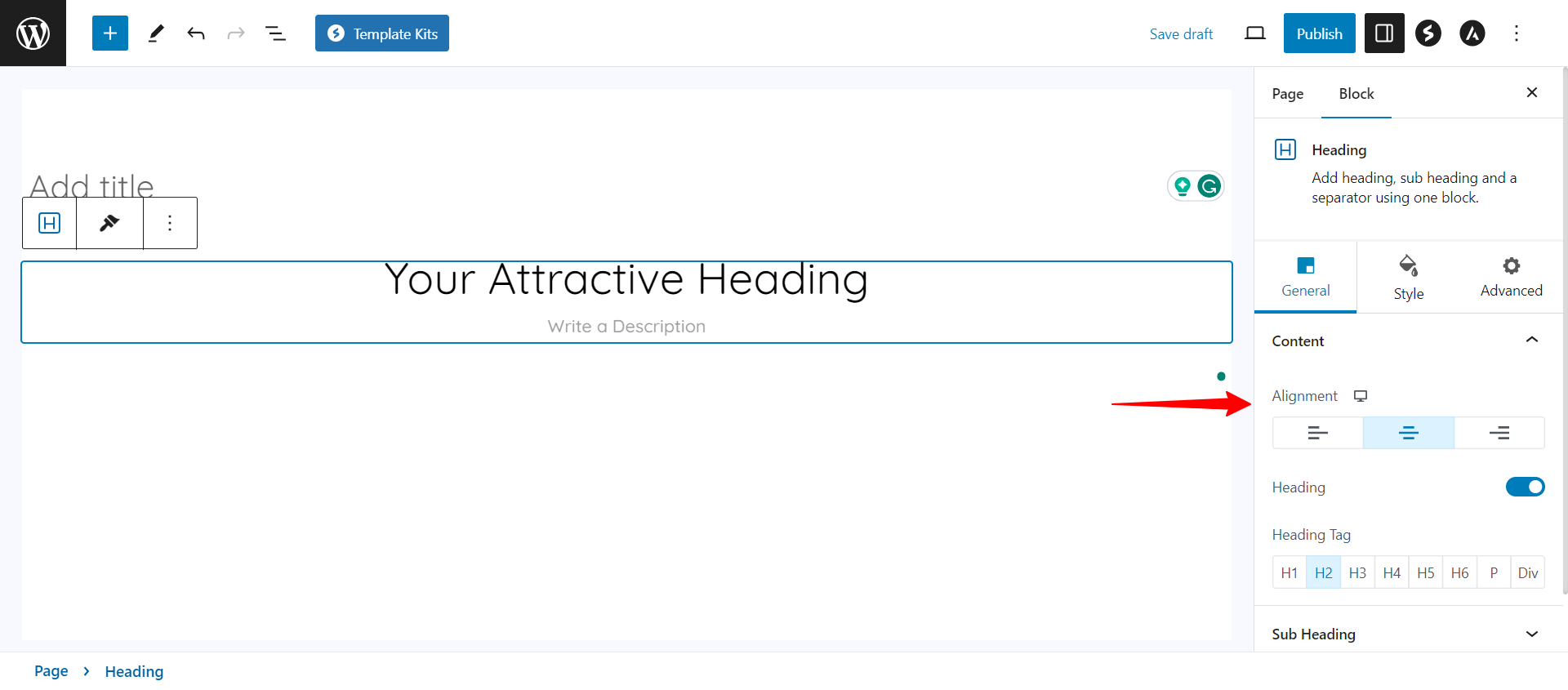 So why wait? You can try out Spectra now for a faster, simpler, and more stylish website-building experience.