Spectra is a free WordPress page builder plugin that enables you to quickly build beautiful, fast-loading WordPress websites without touching a line of code. Using Spectra, you can power-up the Gutenberg editor with advanced and powerful blocks that help you build websites in no time.
You can simply pick favorite WordPress blocks from Spectra that speed up the process of website building with easy to use settings and customizations for visual styling.
After installing Spectra, you'll find three main pages: Welcome, Blocks/Extensions, and Settings. This guide helps you understand and make the most of these pages in the Spectra dashboard.
What does the Spectra Dashboard look like
We believe that you have already installed and activated Spectra on your WordPress website.
Once it is done, you can navigate to Spectra from the WordPress dashboard.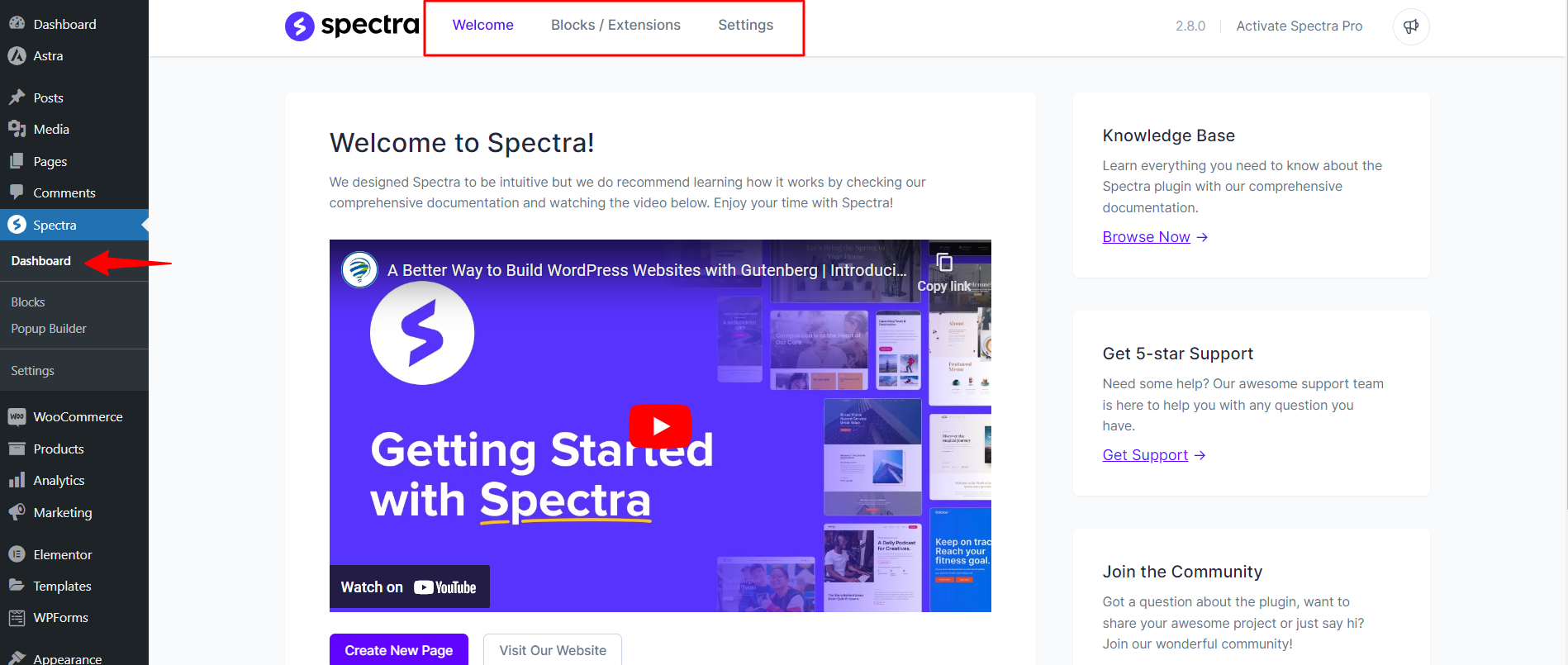 In the Spectra dashboard, you can see the Welcome, Blocks/ Extensions, and Settings pages.
Now, let us go deep into these pages.
Dashboard:
Under the dashboard, you can see the below listed modules.
Knowledge Base Links: Spectra has a separate knowledge base where you will get help with the plugins and blocks. You can learn everything you need to know about the Spectra plugin with our comprehensive documentation.
Get 5-star Support: In case of any doubts or queries, you can contact Spectra developers through the support portal. Just submit a ticket with a support link
Join the Community: Spectra has a wonderful community! You can join this supportive community where you can ask questions, share your projects, and learn from each other.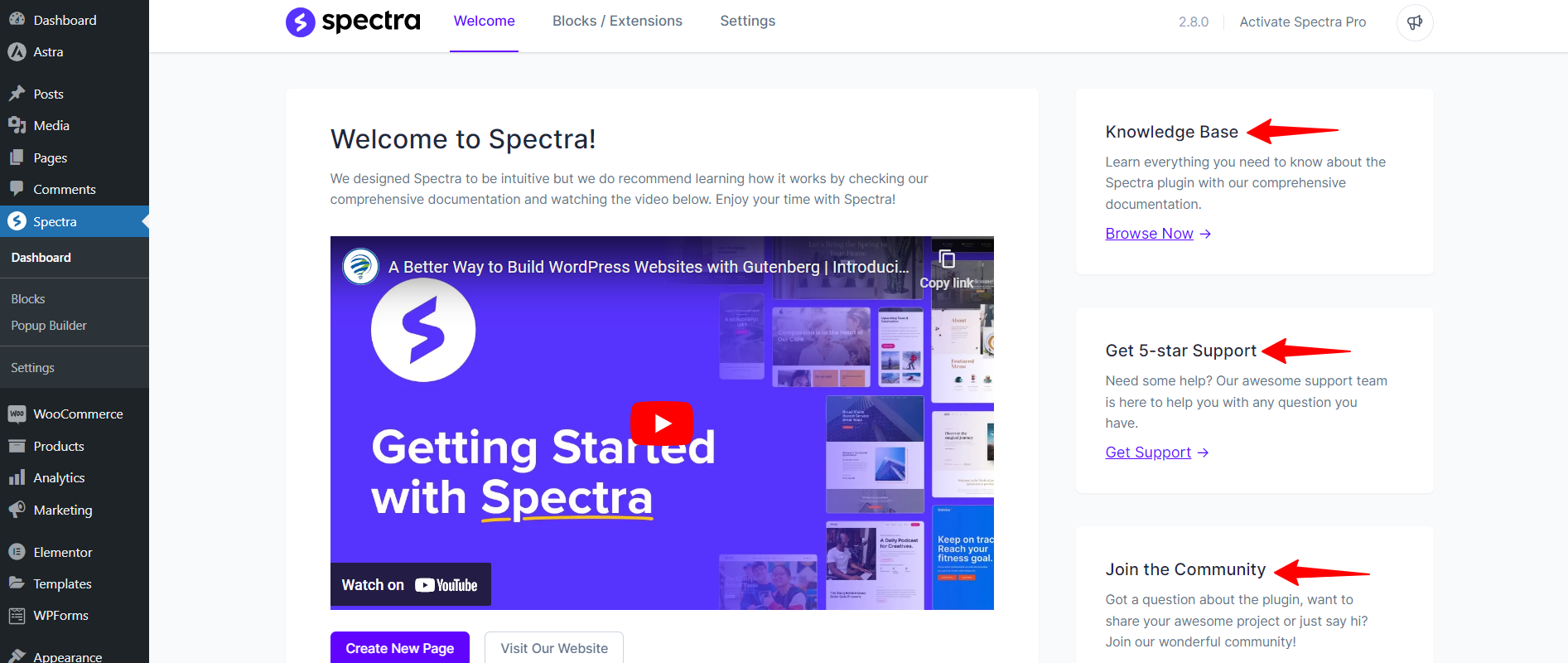 Blocks/Extensions:
Spectra offers a library of pre-built blocks and extensions that can be used to generate a variety of content on your Spectra website. A few blocks include:
Core blocks: Basic building blocks for pages, such as Headings, Info box, call to action, Countdown timer, and Images.
Creative blocks: Blocks for creating more visually appealing and interactive pages, such as Image Gallery, Marketing Button, Star Ratings, and Icon List.
Content blocks: Blocks for displaying content, such as Headings, Info box, Call to action, Counter Timeline, and Images.
Post blocks: Blocks for creating and managing blog posts like Post Grid, and Post Carousel.
Social blocks: Blocks for showcasing social media into pages like Social Share, Testimonials, and Instagram Feed.
Form blocks: Blocks for creating and managing forms like Login Form and Registration Form.
Extensions: Add-ons that extend the functionality of Spectra blocks like Responsive Conditions, and Animations.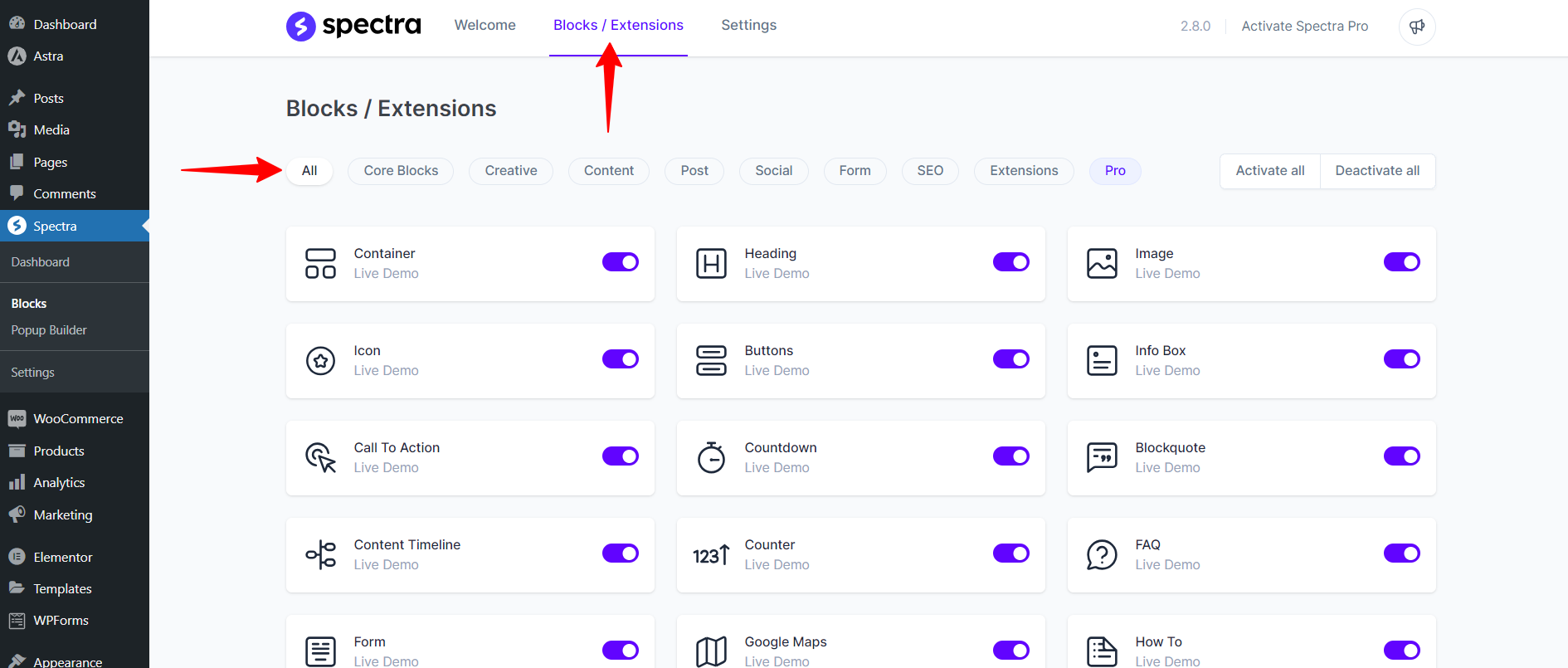 Settings:
Under the Spectra settings page, you can configure Spectra and its various features.
Editor options: You can find general settings for the Spectra editor.
Assets generation: You can find settings for generating assets, such as images and CSS files.
Templates: This library is accessible with the Templates button while editing the page or post. You can manage the visibility of that button with this option.
Version control: You can find the settings for managing versions of Spectra.
Performance: You can find settings for optimizing the performance of your Website using Spectra..
Integration: You can find settings for integrating Spectra with other services.
Site visibility: You can enable Coming Soon and Maintenance modes here.
License: You can find settings for managing your Spectra license if you are a pro user.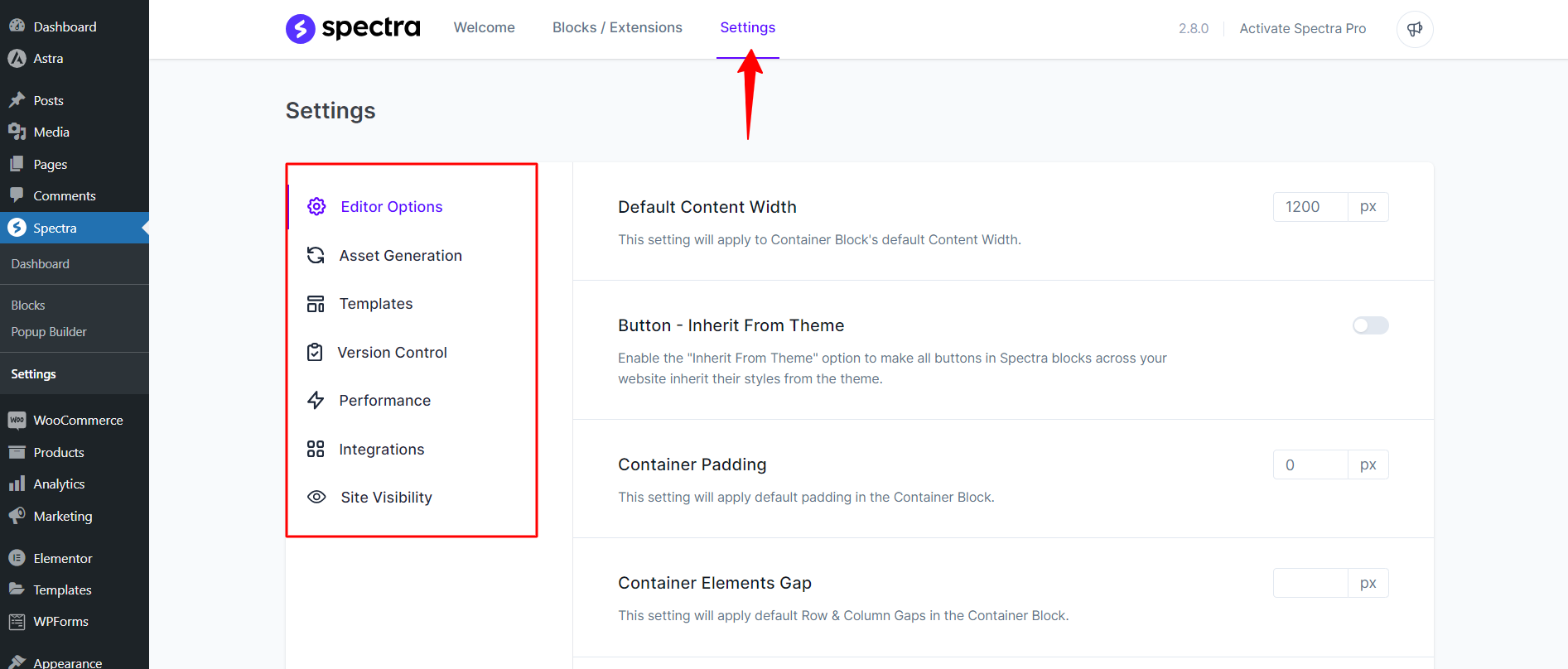 We hope this information is helpful. Please let us know if you have any other questions.