Today we would like to announce some exciting news.
We're thrilled to announce that Spectra just passed 500,000+ active installations on the WordPress repository.
Time passes quickly!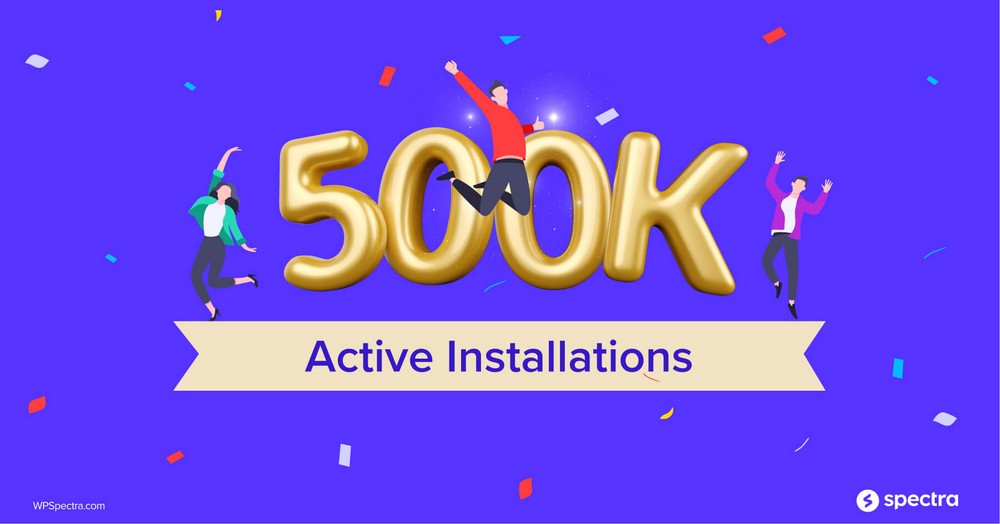 That's a huge milestone for us and the entire team of Brainstorm Force!
It's an honor and a privilege to reach that milestone. 👏
We like to take a moment and thank everyone for all the love and support we have received from you. 🙏
It's what drives us to improve Spectra and come up with innovative improvements and new features.
Now it's time to celebrate. 🎉
Let's celebrate together by looking back on our journey so far and our team's achievements over the past four years. Moving forward, we will also reveal some exciting new features that the team behind Spectra is working on.
Spectra helped 500k people around the world to build their websites.
How Spectra changed web design
We're going to share a brief story about how Spectra helped more than half million people all over the world to build their websites and changed website design forever.
Why did we create Spectra?
WordPress first introduced the Gutenberg block editor in version 5.0. The main goal was to provide simple tools where everyone could create websites without coding knowledge.
Though it was a great improvement, it lacked some advanced blocks and customization options.
So we took up the challenge to enhance the new Gutenberg block editor and launched a new plugin called Ultimate Addons for Gutenberg, back in January 2019.
It was a hit. 🎯
But what's that got to do with Spectra? ❓
In 2022, WordPress changed its name from Gutenberg to the block editor. Since then it's been part of WordPress core.
So the name of Ultimate Addons for Gutenberg was confusing for our users.
That's why Spectra was born. 🥳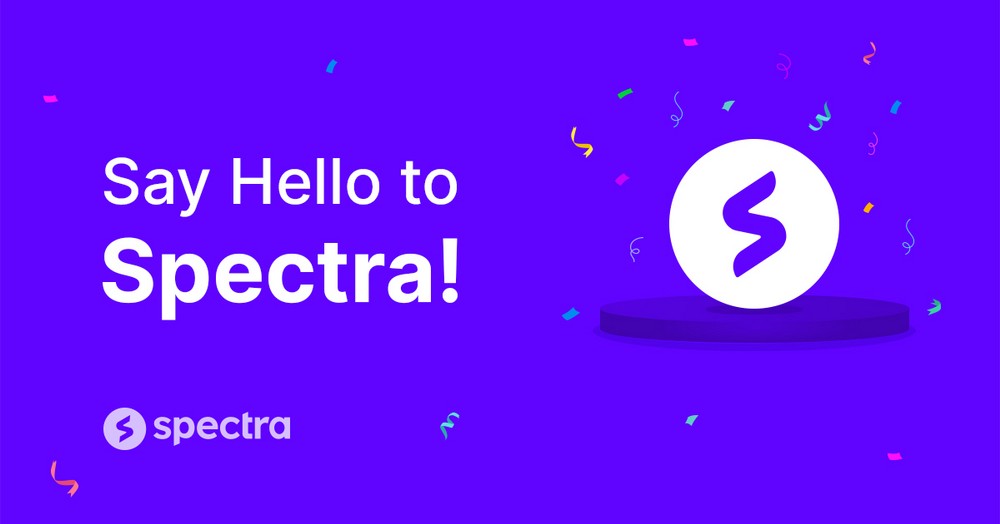 The name Spectra is derived from the word spectrum.
As the vast spectrum of colors makes rainbows fascinating, Spectra mass collection of web design elements helps you do the same with your website!
You can check out the Spectra announcement article here.
How is Spectra different from other page builders?
Spectra is a page builder that allows you to create websites with ease.
But why is Spectra unique? Why is Spectra different from other page builders?
The reasons are many. These are the most important ones:
Easy to use: Spectra works with the default WordPress block editor so the interface is similar. You don't require extra time to learn as you're already familiar with WordPress.
Lightning fast editor: We use the just-in-time compiler that loads assets and blocks dynamically on demand to ensure a fast editing experience.
Clean code output: Our aim is to make Spectra lightweight and blazing fast. We write clean code to keep it lightweight and minimize bugs.
Organized block settings: The block settings are very handy and come with navigation and collapsable tabs for a better editing experience and excellent usability.
Uses modern CSS and JS framework: We use the modern Tailwind CSS framework and features like Flexbox containers to make the design mobile friendly. To make it faster and more efficient, we also use the revolutionary React framework.
Theme and plugin compatibility: Spectra comes with seamless integration with your favorite WordPress themes and plugins.
Spectra also offers built-in SEO schema and Google Maps API key support, copy and paste style, one-click block presets and template import features which make it really stand out.
Our Journey from 0 to 500k
We launched Spectra in April 2022.
From the very beginning, our users loved it. As a result, within one year it achieved more than 500k active installations.
Here's a quick recap of our journey and some milestones we have achieved.
Spectra 2.0 (17 August 2022): Spectra 2.0 is the first biggest release after it launched. We introduced some new blocks like containers, how to, image and more. We added exclusive features like copy-paste styles, Font Awesome support and block presets. We also designed a beautiful fast admin dashboard powered by React.
Spectra 2.4 (15th March 2023): We added two new blocks, countdown and icon, and some new image gallery lightbox features in version 2.4. We also worked on improvements and code optimizations.
Spectra 2.5 (25th April 2023): This version was mostly about improvements. But the important thing is from this version Spectra now has support for the all-new Spectra Pro premium page builder that will launch soon.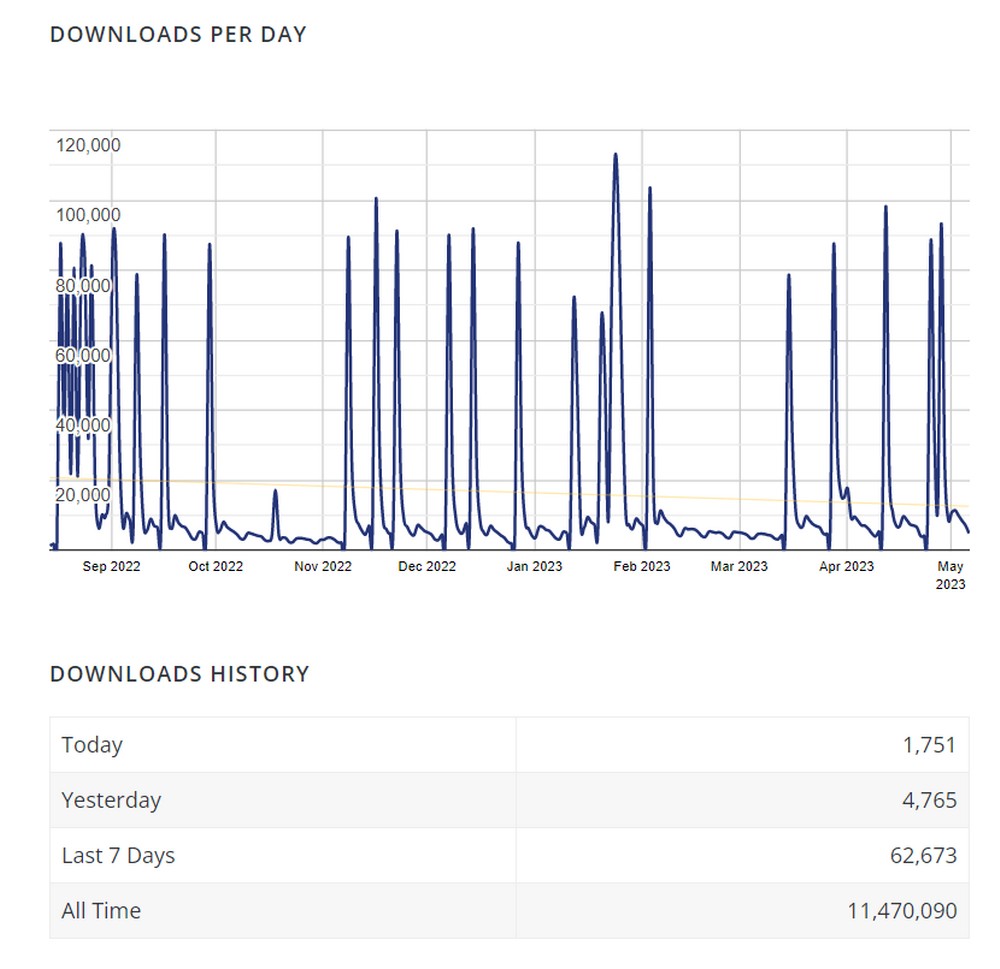 Without you, we couldn't have achieved this milestone!
Check our changelog page for all Spectra updates so far.
Spectra blocks at a glance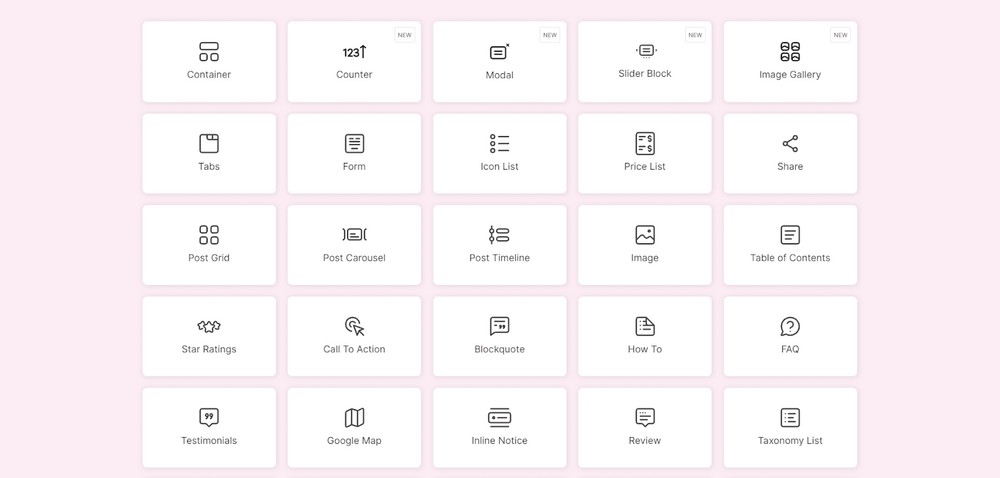 Here is a list of our current free blocks:
| | | |
| --- | --- | --- |
| S/N | Block name | Use case |
| 1 | | Design and customize columns and attractive rows on your pages |
| 2 | | Add animated counters to your website |
| 3 | | Build dynamic popups to display content, images and forms |
| 4 | | Create stunning slides with supporting different animation effects |
| 5 | | Showcase your photo gallery with carousels and masonry layouts |
| 6 | | Add long content in a limited space and improve user experience |
| 7 | | Design appealing forms and add personalize success and error messages |
| 8 | | Add icons and images as bullets and set different positions |
| 9 | | List your prices in a more organized way |
| 10 | | Add beautiful social share buttons to help engage |
| 11 | | Display posts in an organized grid layout |
| 12 | | Showcase posts in a carousel layout to attract readers |
| 13 | | Add posts based on taxonomies to create a timeline |
| 14 | | Add images to your website with advanced customization options |
| 15 | | Add a table of contents to ensure a better content structure and improved user experience |
| 16 | | Build trust and reassure new users by adding attractive star ratings |
| 17 | | Grab visitors' attention by adding a conversion focused call to action |
| 18 | | Add statistics and enable click to tweet feature in minutes |
| 19 | | Implement how to schema in your posts or pages without coding |
| 20 | | Enable the FAQ schema feature to increase visibility and click through rate |
| 21 | | Add testimonials in different styles to share social proof |
| 22 | | Embed Google Maps with more advanced customization options using the Spectra map API key |
| 23 | | Use different designs to display notices anywhere on your website |
| 24 | | Add reviews with schema support within the block editor in minutes |
| 25 | | Use different styles to display content based on post types and categories |
| 26 | | Create customizable calls to action to boost conversions |
| 27 | | Add your stories, flowcharts, roadmaps and timelines in no time |
| 28 | | Showcase team member details with different layouts |
| 29 | | Boost user engagement by adding attractive Lottie animations |
| 30 | | Design creative buttons and set premade presets to make them stand out |
| 31 | | Add catchy headlines with more possibilities |
| 32 | | Create professional content boxes with images, headings and subheadings |
Spectra offers three different extensions: Responsive Conditions, Masonry Gallery and Display Conditions.
You can go through this article Spectra blocks libraries to learn more about them.
Readymade website templates and wireframes
To make website design easier and faster, we've created 130+ professional full website templates for different niches.
These templates are 100% FREE and highly customizable.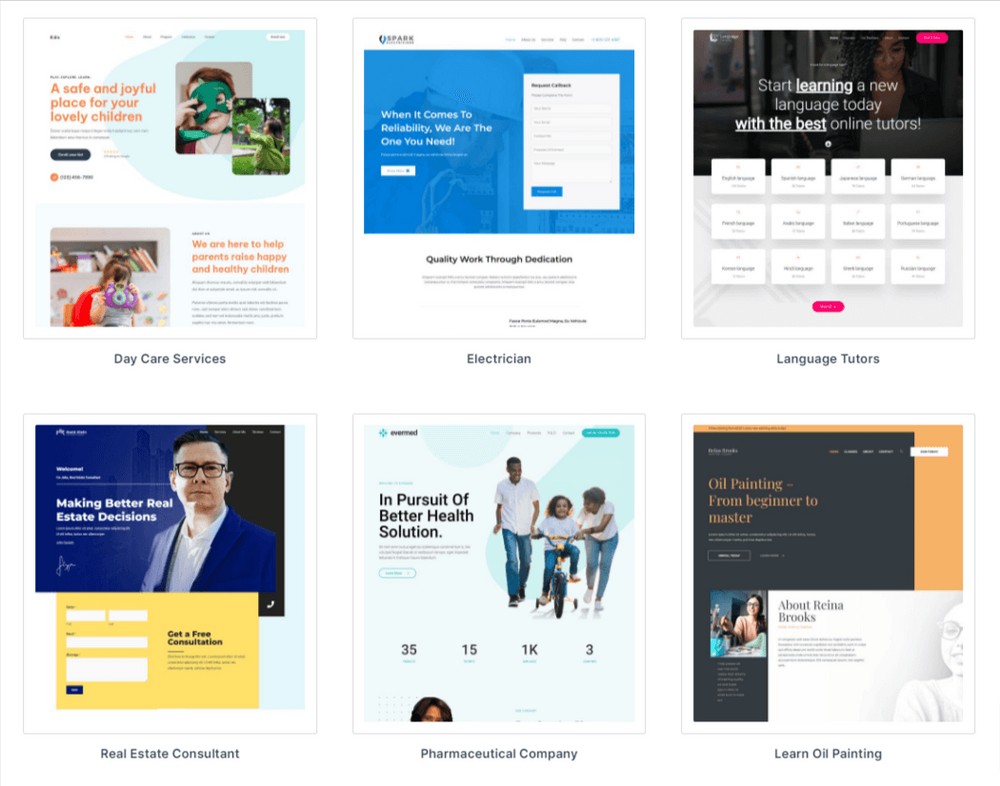 You can simply import a template to your website and customize it as you like.
Apart from the ready website templates, you can also use our pre designed patterns. It lets you give more customization possibilities while creating your unique websites.
Patterns are added in different categories so you can easily access them.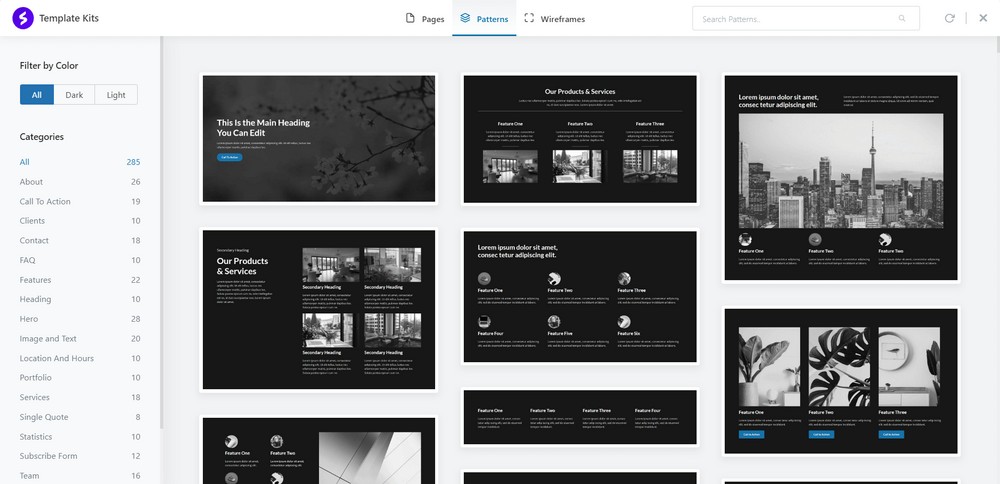 Patterns are structured but you can use your own creativity to make your custom patterns using Spectra wireframes.
Spectra templates, patterns and wireframes are huge time savers, theme independent and come with limitless customization possibilities.
We're continuously working on new templates, patterns and wireframes so expect more soon. 🎉
We take care our customers
Our main goal is to provide world-class support for our valued customers because we believe your happiness is our highest priority.
We have received over 830+ (⭐⭐⭐⭐⭐) 5-star WordPress reviews so far.

Happy customers are our real motivation! 💪
We're available on social media like Facebook where more than 1.2k active users are connected with us. Feel free to post on our page if you have questions or struggles regarding Spectra.
Our dedicated admins and experts will be happy to help you. Our community is very helpful you may get help from group members as well.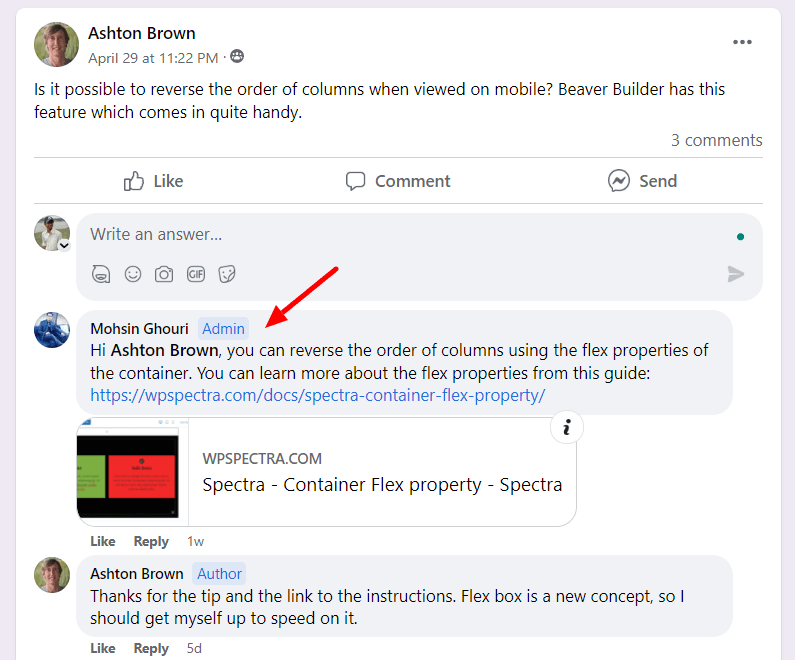 Join our Facebook page.
Our detailed knowledge base page helps you get most of your queries answered. We have a professional documentation team who write simple and easy-to-understand product guides which help users learn about our product with ease.
You can explore our blog page to get free guides.
Let's see what customers say about us.

Alexandra is one of our happy customers.

Mahlon Moore talks about Spectra and our support.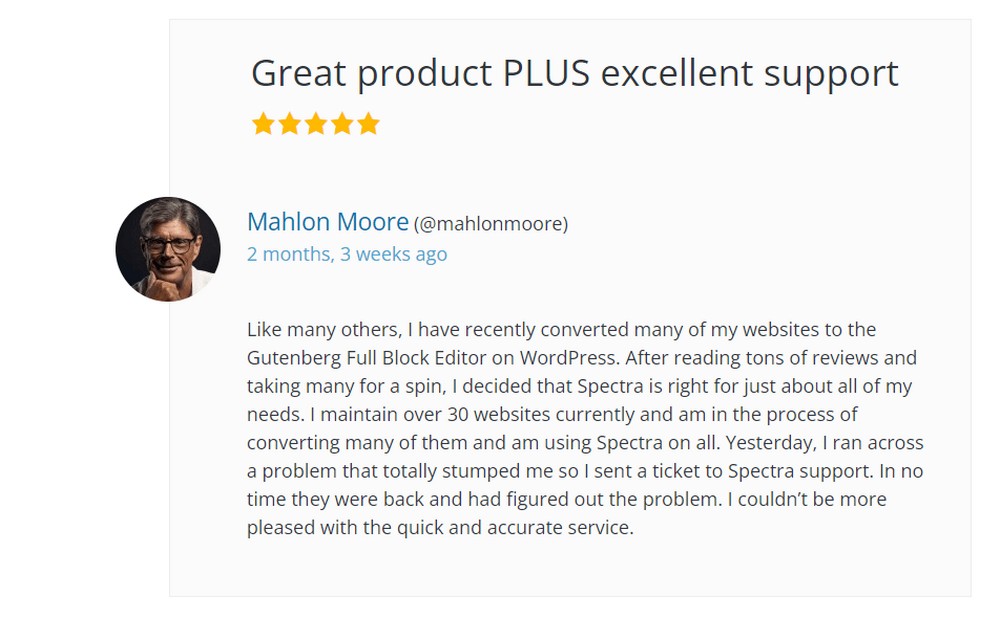 What's next for Spectra?
One free block is coming soon, the Separator block..
The Spectra Separator block will let you separate your web page section from one to another.
While adding the divider, you can use text and icon as elements and apply different styles such as solid, dotted, double, dashed, rectangle, parallelogram, slash and leaves. The handy block settings let you set the text alignment, icon size, color and more to make it attractive.
Spectra Pro is coming soon!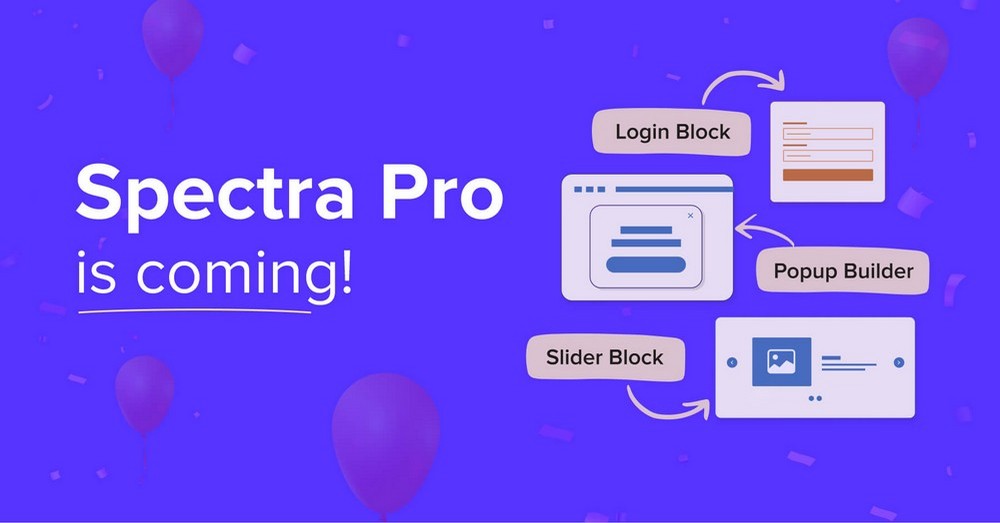 Your wait will be over soon!
We're thrilled to announce that Spectra Pro is coming soon. 🤩
Spectra Pro comes with 3 new blocks. You'll also get an extension and a couple of new features that will make your life easier.
Try Spectra today!
If you want to create your website the fast and easy way, try Spectra today. You'll be part of a family 500,000+ strong.
Or if you are already using Spectra and love it then give a review here.
Thank you all for your love and support through this journey. ❤️
Reaching 500,000+ active installations is a very proud moment for us. But it's not our destination, it's just a milestone.
Our next goal is to hit 1 million active installs!
Don't forget! Spectra Pro is coming soon to make your life even easier.
Stay tuned!
Disclosure: This blog may contain affiliate links. If you make a purchase through one of these links, we may receive a small commission. Read disclosure. Rest assured that we only recommend products that we have personally used and believe will add value to our readers. Thanks for your support!